WITH PASSION WRAP UP PRODUCTION ON VIDEO FOR
"PALE HORSES RIDE"
Valiant, raw emotion bleeds from every musical pore of WITH PASSION'S latest Earache release, "What We See When We Shut Our Eyes," fostering a comfortable balance of musical excellence and heart-felt sentiment. WITH PASSION wrapped up filming on a video for "Pale Horses Ride," the first single from "What We See When We Shut Our Eyes" displaying al of these gut-wrenching characteristics. Filmed in a dimly lit garage setting, WITH PASSION stay close to their underground roots and visually portray vibrant portrait of their sought after live shows. Directed by Scott Cramer, the video recounts horrific scenes interwoven with shots of WITH PASSION performing in a sparsely lit area – piecing together atmospheres that link the song, as well as the album together. WITH PASSION'S "What We See When We Shut Our Eyes" is now available on the US and UK Earache web store, including the video track &ld quo;Pale Horses Ride" ad well as 9 additional technical masterpieces! Also, check out WITH PASSION on the road with ISCARIOT and ARCHITECT this spring – check out
www.myspace.com/withpassion
for venue details!
View stills from the video shoot for "Pale Horses Ride" at :
http://s98.photobucket.com/albums/l274/earachepress/With%20Passion%20Shoot/?action=view&current=1173470734.pbw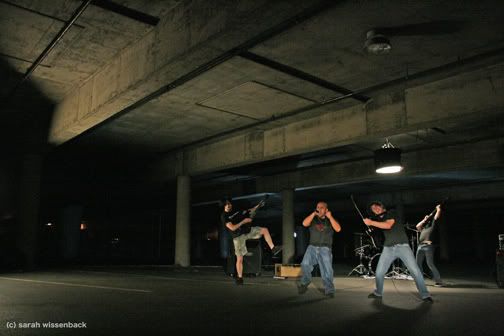 ALL PICTURES CARE OF SARAH WISSENBACK
WITH PASSION ARE NOW DOING INTERVIEWS! PLEASE CONTACT:
Zeena Koda
North American Press Manager
Earache Records
Phone - 212-840-9090
Fax - 212-840-4033
43 W 38th St. - 2nd Floor
NY, NY 10018
AIM: AriaOpium
www.earache.com
usapr@earache.com
http://www.myspace.com/earacherecords
Photos, Art and Logos available at: http://www.earache.com/media
:: Coming from EARACHE in 2007 ::
1/23 :: Municipal Waste - "Hazardous Mutation" Redux with bonus DVD
4/24 :: Deicide - Doomsday Live in L.A. DVD
The Berzerker - "Animosity"
5/8 :: With Passion - "What We See When We Shut Our Eyes"
Entombed – S/T Redux
Cathedral - "Carnival Bizarre" Redux
5/22 :: Bolt-Thrower - "For Victory" Redux
Nox - "Ixaxaar"
6/19 :: Napalm Death - SCUM Redux with bonus Documentary
*Earache Metal 6CD Compilation - 20 Years of Earache,
Independent as FUCK!
7/17 :: Blood Red Throne - TBA
Ephel Duath - Remix
8/14 :: Akercocke - TBA
Biomechanical - Cannibalize