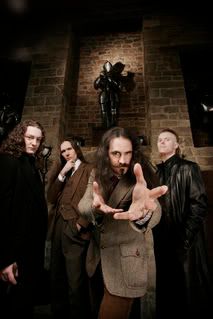 AKERCOCKE SHOOT VIDEO FOR "AXIO
M" WITH HSI LONDON
On Monday May 14th, sharp suited metal maestros
Akercocke
arrived at Wilton's Music Hall in London to begin shooting their video for the brand new track
"Axiom"
, lifted from the stunning new album
'Antichrist'
. The shoot was undertaken by highly acclaimed promo clip company
HSI
(responsible for classic clips by
Nirvana
,
My Chemical Romance
,
Coheed And Cambria,
etc).
The video was directed by
Erica Herbert
. She specializes in a dark, elegant style of imagery that compliments the band perfectly. With a mixture of band performance and storyline in the form of 2 beautiful seductive girls dressing & undressing one another, the viewer will witness a clever twist in the normal performance alongside storyline format.
Front man,
Jason Mendonca
had the following to say about the shoot: "The new video for
"Axiom"
promises to be a tremendously surreal work indeed.
Erica Herbert
's dreamlike direction and Schwanmeir-esque approach should make for a unique and beautiful visual outing"
Follow this link to view some photos from the shoot:
http://www.earache.com/internal/akervideo
The video will soon be ready to view on most major music channels.
'Antichrist'
is released in UK on May 28th and USA on July 17th.
For contact details and information regarding
Akercocke
, please reach:
Anthony Guzzardo
North American Press Manager
Earache Records
Phone - 212-840-9090
Fax - 212-840-4033
43 W 38th St. - 2nd Floor
NY, NY 10018
E-Mail: usapr@earache.com
AIM: ForsakenChaos37
www.earache.com
www.myspace.com/earacherecords
Photos, Art and Logos available at: www.earache.com/media