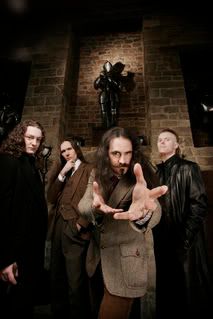 Akercocke's Antichrist sparks religious debate on BBC TV TONIGHT
The upcoming release of UK death metal giants
Akercocke
's latest album
Antichrist
has caused uproar amongst Northern Ireland's religious community, and is set to be the subject of a major religious debate live on
BBC1
Northern Ireland.
The overtly satanic content contained within
Antichrist
has come under attack by religious forces, leading to the band's vocalist Jason Mendonca facing a head- to-head live TV debate that will air on
BBC1
's
'Nolan Live'
show. The debate will be broadcast live via satellite link at 10.45pm on BBC Northern Ireland following Akercocke's gig on May 16th at Nottingham's Rock City. This meeting of minds is sure to stir waves of controversy ahead of their show in Belfast on May 18th and Dublin on May 19th and with the
Antichrist
misson statement in full force,
Akercocke
are sure to voice their closely held satanic beliefs.
To find out more about
Antichrist
and to listen exclusively to the track "Summon The Antichrist" that has ignited this controversy, head over to
www.myspace.com/akercockeantichrist
.
Antichrist
is released in the UK on
Earache Records
on May 28th (UK) and July 17th (USA)
Stephen Nolan's show can be viewed on Sky TV for BBC1 Northern Ireland, channel 973 and online at
www.bbc.co.uk/northernireland/nolan/
.
For Akercocke contact and information, please contact:
Anthony Guzzardo
North American Press Manager
Earache Records
Phone - 212-840-9090
Fax - 212-840-4033
43 W 38th St. - 2nd Floor
NY, NY 10018
E-Mail: usapr@earache.com
AIM: ForsakenChaos37
www.earache.com
www.myspace.com/earacherecords
Photos, Art and Logos available at: www.earache.com/media